Holiday Gift Guide for Petites (Part 1). All outfits mentioned here are from the Winter Collection

 

of 

Dane Fashion

, a petite-friendly Canadian brand.
Introduction
I'm petite (4'10"/148cm), and I love a good gift. So, in the spirit of giving, I've asked some of my friends who are also petite to suggest some of their favorite things. Here's what they came up with in this article. 
Here are some items that petite women like you will cherish. Why?
Petite sizes are hard to find. If you're a petite, you know it's nearly impossible to find clothes and shoes that fit properly. It's not just the length that's an issue—often the proportions are off even though the garment fits in length.

Petite sizes can be hard to fit. Most of us have experienced trying on a dress or skirt only to find that its waistline is too big or hips too small, so we end up having to go up two sizes (or more).

Petites also like to feel stylish. They want options that look as good as they feel—but with petite sizing being so rare, such items are difficult for us!

Petites like to be comfortable. Clothing and shoes should allow us freedom of movement without feeling restrictive or unflattering; most clothing in the standard retail market doesn't accomplish this goal very well at all!

Petites like empowerment through fashion choices. With petite sizing being so hard to come by, it's no wonder that many petite women feel like there is nothing out there for them. When we do find something that fits and flatters our shape, we want to feel good about it! We don't want a dress that makes us look matronly or frumpy or outdated.

Petites like to be original. With so few options available, we often have little opportunity to express ourselves with clothing choices -- We want to have a say in what we wear, and not be limited by the options available. Petites like to feel confident in our fashion choices; they should reflect who we are and what we want to express. But most of all, petites like to feel great about themselves!
Which of the situations above resonate with you? 
Petite Shoes
Our collection of pumps available in petite sizes.
Dane Fashion is a brand of shoes that are designed specifically for petites from US size 1 (UK 0). They have an array of styles and colors to choose from, including petite pumps, sandals, flats, heels and boots. Plus they're comfortable and stylish!
A lot of times when you're a petite person shopping for shoes (or clothes), things are either too big or too small and uncomfortable. But with Dane Fashion, no matter what style you choose—whether it be heels or flats—they will fit perfectly on your feet because they were made specifically with us in mind! The best part about this brand is that the prices are very reasonable so you can get multiple pairs without breaking the bank.

Our collection of boots available in petite sizes.
Boots are another great choice for petites because they make you look taller without being too high up on your foot (like heels). They also offer protection from the elements so you don't have to worry about getting wet when it rains outside! If you want to keep it warm and cozy this season, boots are a great choice.
The best thing about them is how versatile they can be—a pair of ankle or knee boots can be worn with dresses and skirts just as easily as they can with jeans (or tights) and sweaters. Plus, they can go from day to night without missing a beat.
Petite Jackets

DOUBLE TAKE ASYMMETRICAL BLACK FAUX LEATHER CROPPED JACKET S
If you're still looking for the perfect gift for someone petite, I can't think of a better option than a petite jacket. They are the perfect winter layer that go over any outfit, from jeans and a t-shirt to your favorite LBD. And don't forget about their versatility—they can be dressed up or down depending on how you style them! You can also carry them on travel as an extra layer of warmth.
Petite Trench Coats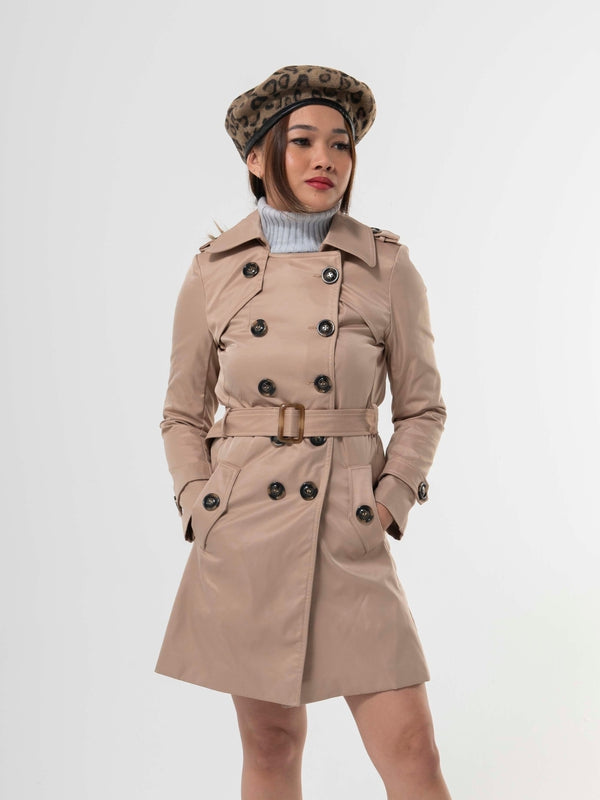 SHEFFIELD Belted Slim Trench Coat (available in 4 colours)
Finding the classic trench coat in petite sizes is like trying to fit a round peg through a square hole. Petite women have a hard time finding clothing that comfortably fits.
At Dane Fashion, we stock a full range of petite clothing including stylish and reasonably-priced trench coats. Short women are our specialty. The sizing on our site is just for you – to help you buy with more confidence.
A trench coat is a classic addition to any wardrobe. You can wear them with jeans and boots in the winter, or dress them up with heels for work or an evening out. Our best-selling coat come in 4 colors, including black, navy and red. Consider shopping for one in each shade if you want a wardrobe staple that will go with just about everything!
Petite Stretch-Knit Dresses

COZY PERFECTION BELTED V-NECK DOLMAN SLEEVE SWEATER DRESS One Size (available in 5+ colors)
This is a great time to get a little creative and use your imagination. While there are plenty of options for petites out there. Look for stretch-knit dresses that fit loose, with good necklines and hemlines.
Conclusion
If you are petite, we know how hard it is to find clothes and shoes that actually fit. So we've made this list of items you'll love and will appreciate the time we spent curating it for you. We hope you find something for yourself or your petite beloved one here. Keep an eye out for part 2 of our holiday gift guide!
And for more petite fashion guidance, be sure to check out our petite style blogs. You can also join our community of chic petite fashion #danefashion by following us on Instagram.